Welcome to Parkour-Vienna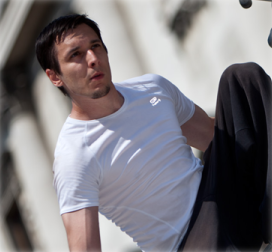 Thomas 'TOM' Stoklasa übt seit August 2004 Parkour aus und startete Anfang 2006 die Parkour-Community Website Parkour-Vienna.at

Seit 2006 gibt es das wöchentliche Forum-Meeting am Schwedenplatz, welches durch Mitglieder des Parkour-Vienna Forums initiiert wurde.

Connect the Community - Verein zur Förderung von Bewegungskunsten.
Zur Förderung von Parkour und Bewegungskunsten allgemein durch Vernetzung, Kommunikation und die Schaffung öffentlicher Akzeptanz.
Workshops und Trainings
Bewegungsbezogene Bildungsangebote
Unterstutzung bei der Entwicklung von Risikokompetenz
Förderung von Kooperation und Zusammenhalt
Kooperationen mit öffentlichen und privaten Einrichtungen
Bewegungsangebote fur Kinder, Jugendliche und Erwachsene
Aktive Mitgestaltung der Parkourszene
Erfahrung, Zuverlässigkeit und Qualität
für professionelle Anfragen:
Shows
Fotoshootings
Video-Produktionen
Für Anfragen:
E-Mail